Chinese painting lessons and more
Back in Xiamen, after the excursion, there were a few days of heavy rain and wind. I stayed inside a lot, drawing. And starting to organize the many photos I made in Quanzhou, Meizhou and Putian. From my window there were spectacular views of clouds above the sea.
Then the sun came back. A hot sun, that people don't seek like in Holland; on the contrary, they protect themselves against it with hats, caps, umbrellas, long sleeves and whole face masks, especially people working outside.
Some of the electric mopeds even have umbrellas. Many have a homelike air anyway. They're used as furniture, or, as small as they are, to transport furniture.
Since my painting lessons started later, I have only one month for them, until I'll go to Hongkong, 14 May. After that trip I'll to dedicate myself fully to my own work, since my exhibition is scheduled for 2 June. So I go to Cheng laoshī three times a week now; once for a private class and twice to group lessons, shared with a few small kids, who paint much better than me, haha. We can't speak much together but we laugh a lot.
The lessons are classical in the Chinese way: The teacher paints a known classical painting while the student observes and makes notes. Then (a copy of) the painting is handed to the student who is to copy it as exact as possible, adding all elements in the same order using the same brush strokes as the teacher has done, while she looks on and gives directions.
What I make here are very primary studies. A month is short to become adjusted to the new materials and techniques. The paintings are often a bit sweet for my taste, and combining black lines with colour was something I chose to avoid in my own work since many years. But I came here to learn and to open myself to this culture, so I do, and Sheng Laoshī is patient and kind. And it is awarding. I startto feel that the many rules have purposes. And that one purpose that hits goal with me immediately, is that it pulls me away from my comfort zone; away from repetition, and from known colours; into another cosmos I still can only sense. I learn about brush strokes, wet and dry lines with more and less pressure, using also the side of the brush, and most of all: irregularity.
One of the weekly classes is dedicated to calligraphy. Here my European programmed aesthetic mind-set doesn't suffer ;-), on the contrary. Very difficult to execute, though, not to speak of remembering their specific content. But I greatly enjoy the meditative feel of it and the awareness of their significance. Where does the drawing begin and where does the writing stop? And vice versa? A rhetorical question that's very present in my own art practice too.
The lessons are given in the house of the teacher, Cheng laozī, an apartment on the ground floor of another modern sky scraper. Only three years old, the building is surrounded by a gated park from the same time, but which looks as if it has been here for ages.
It's situated in a lively neighbourhood with quite a few shops and older houses, not far from the vertical Hongshan Park. On my way from and to the bus stop there are always lots of things slowing me down and inviting me to look; like these blankets, hanging outside to dry.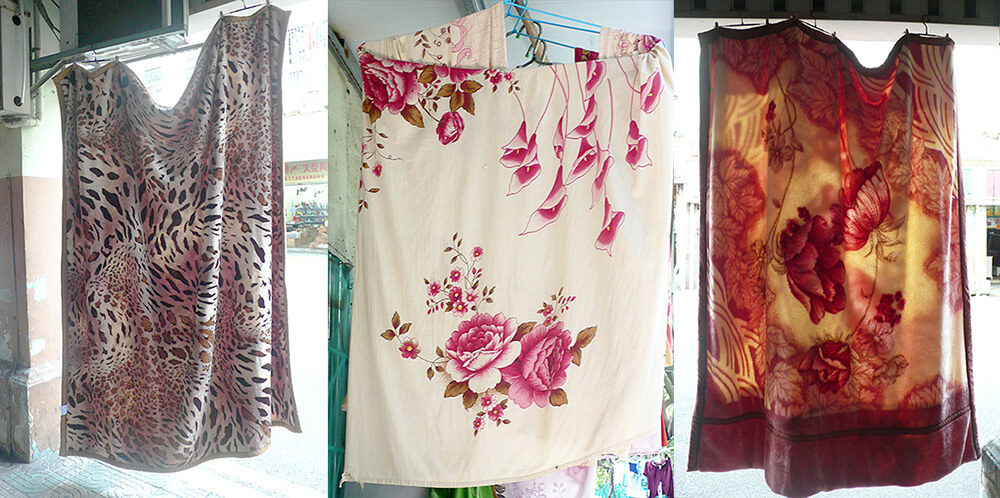 Or like that day I went to class, and just a few houses before reaching laoshīs compound there was a whole furniture set on the pavement. Obviously just cleaned, because still wet. In its marble plates I detected whole worlds. When I showed the photos to Sheng laoshī she said smiling that the granddaughter of the furniture's owners is one of her students.
After class I took the bus home from the stop at the long Siming Road, which in this neighbourhood is flanked by covered arched sidewalks with shops, restaurants, and entrances to peoples houses.
You seldom have to wait long for a bus in Xiamen. They are many, and super cheap, but slow because of the dense traffic, especially on this route. But since I'm a laowei (foreigner) there are always new things to see, both through the windows as inside. For instance many tattoos.
Of the photos underneath, the middle ones are the arms of the wife of a tattoo artist I've met. In the top right one you can see one of the many people who put cheap tattoos on the boardwalk at the fort, near the apartment, takeaway tattoos so to speak.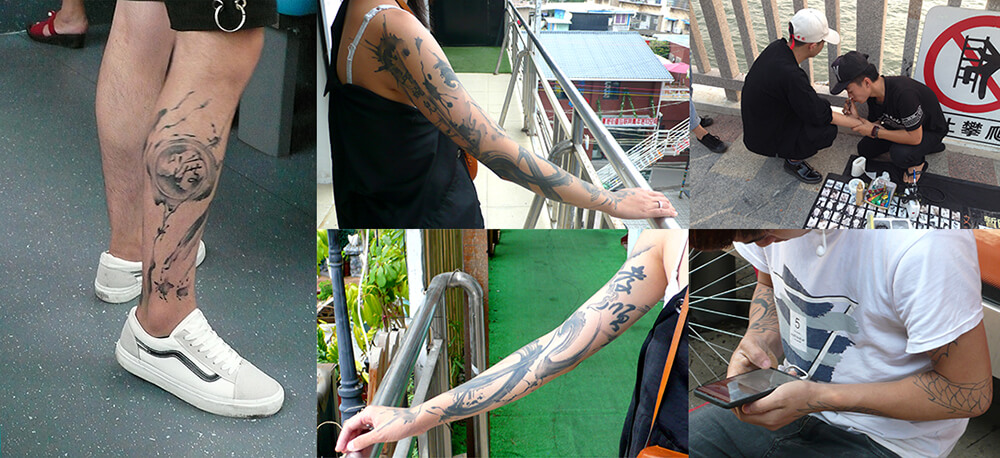 On the other stretch of beach, left from the apartment, the wedding photo shoots continued, especially during the afternoons of the weekend. I got used to them, and the urge to photograph them grew less. Here one of the last photos which I like because of the routine it displays.
But sometimes they still surprised me, like this couple glowing in the dark: